Superclusters
Use of a sphere to mark the position of a star is quite clear, and its use to show the position of a galaxy, or even a galaxy group, straightforward. However it becomes problematic when we use a sphere to mark a supercluster — a cluster of galaxy groups and galaxy clusters.
Galaxies and groups and clusters of galaxies are arranged in great intersecting filaments or sheets, forming a web or lattice-like structure throughout the universe. Superclusters are the intersections of these great filaments or sheets of galaxies. Between the great sheets and filaments of galaxies lie great voids containing just a few isolated galaxies. This web or lattice-like structure can be seen in this plot of galaxies from the Sloan Digital Sky Survey:
Superclusters might be thought of as great metropolitan centers, connected by lines of many small towns and small cities along roads and highways. Between the network of highways and roads lie great rural voids containing just a rare, isolated farmhouse or shack. The sphere used by Galaxies3D to mark a supercluster might be thought of as like the dot marking a great metropolis on a map. The dot by no means delivers any sense of the sprawl and grandeur of the metropolis. Nonetheless, the dot does give us a sense of where that metropolis lies in relation to other metropolises.
With this in mind, compare this volume rendering of the density contours of galaxies forming several labeled superclusters from the paper by Brent Tully et al describing the Laniakea supercluster:
with a view of the same volume in Galaxies3D. Rather than using contour surfaces of galaxy density to deplict the superclusters, Galaxies3D uses the dominant rich galaxy clusters (the "A" prefix refers to a cluster's number in George Abell's catalog of rich galaxy clusters) in a supercluster as surrogates to mark the location of the supercluster: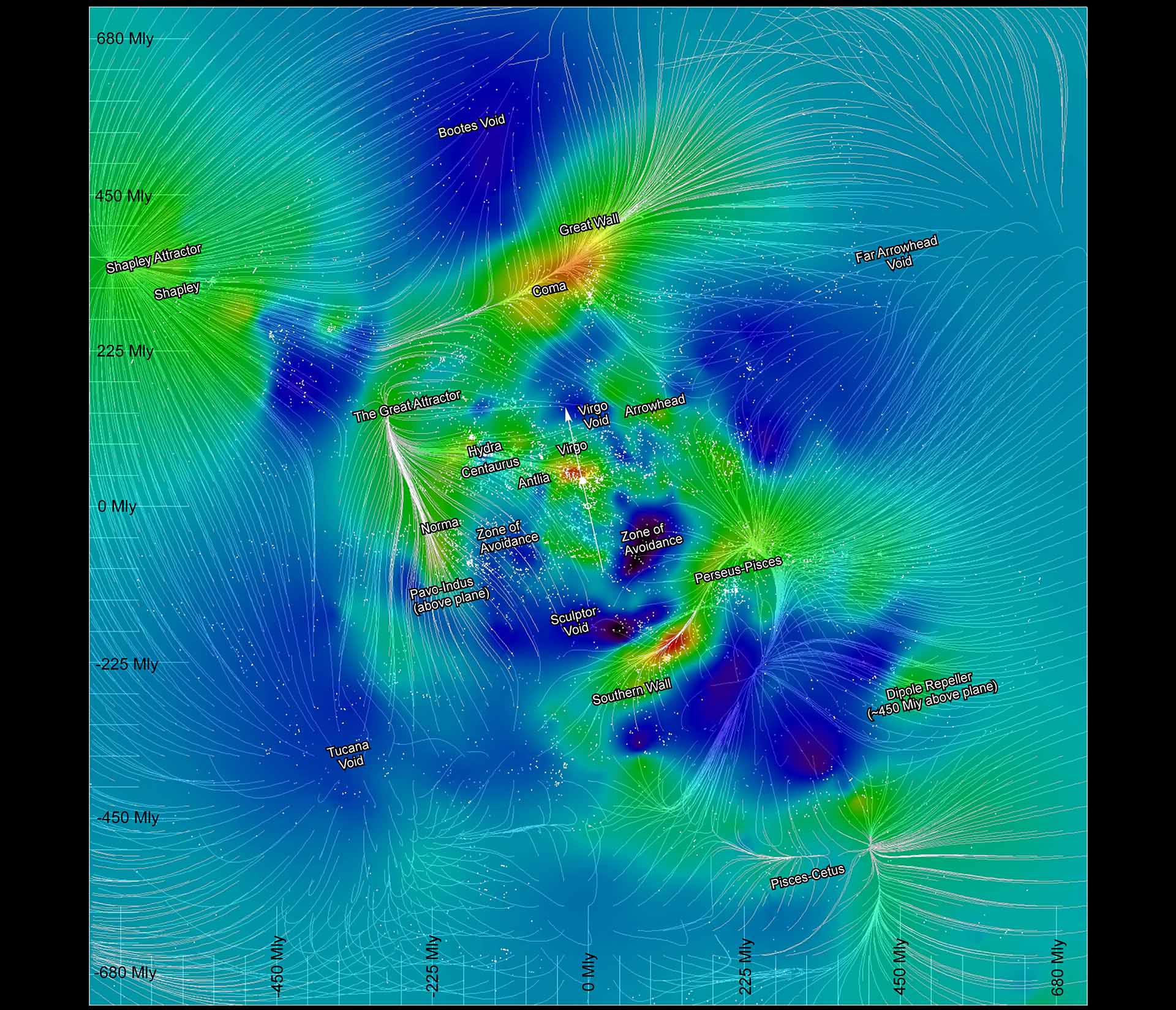 The Galaxies3D view of nearby Rich Superclusters within 1.5 Gly is based on the catalog of superclusters by Einasto et al (Astron. J. 122, 2222 (2001)). It includes:
all superclusters within 1.5 Gly with 7 or greater members
5 additional named supraclusters with less than 7 members: Phoenix, Sextans (part of Sloan Great Wall), Hydra-Centaurus, Perseus-Pisces, and Coma (the latter 3 included to provide a reference for comparision with the Galaxies3D view of Nearby Superclusters)
The Galaxies3D view of Rich Superclusters within 1.5 Gly can be compared to the Galaxies3D view of Nearby Superclusters; both views show the Shapley, Hydra-Centaurus, Perseus-Pisces, Hercules, Coma, and Virgo (Local) superclusters. The Nearby Superclusters view (lower two images) expands the middle section of the Rich Supercluster view (upper image):